Hello there! Today I am very excited to be joining Simon Says Stamp for their Cold Hands, Warm Heart blog hop. If you are following the hop then you should have arrived here from the one of my favorites, Jennifer McGuire's blog. This is a super duper fun winter release. I love products that make you smile and allow you to make cards that make others smile. This new Ugly Sweater stamp set is absolutely hilarious. I'm not sure what's better, the images or the sentiments. They both just make me laugh.

I had so much fun creating my custom ugly sweaters with all of the fun little images that come in the sets as well as the coordinating dies. I did some masking, Copic coloring as well as adding details with a white Signo gel pen and glossy accents. I know some people who would totally wear sweaters like these and wear them with pride. I say, "More power to ya, honey. Get your ugly on and work it."

Next up is the Build a Snowman stamp set with coordinating dies. I also used the new Festive Chevron stencil for the background. with some Sea Glass ink.

How adorable is this snowman holding the strand of lights? I added some googly eyes and drew the smile with my Multiliner pen. The snowy hill was also created using the new Stitched Slopes & Hills dies.

And my last card features the new Snow Gear stamp set as well as the coordinating dies.

This one here definitely got my Canadian hockey lovin' husband's approval. This card kinda reminds me of our basement. Just times the gear by ten. We have a whole corner full of hockey sticks, pucks, skates and gear for days down there and it all smells like…well, it smells awful to put it nicely. They have so much fun using all of it, so it's worth the smell, I guess?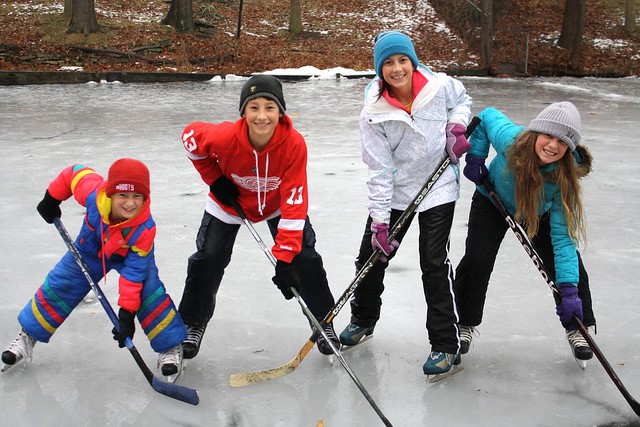 Skating on the pond is what we do best during the holidays, and getting new gear for Christmas is always on the wish list.

Simon will be giving away a grab bag Prize Pack to 1 commenter on each blog hop hostess's blog. The giveaways for the prize pack will close at 1:00pm EST on Friday, October 10, 2014. A complete winners list will be posted on the Simon blog on Friday October 10, 2014. Leave me a comment for your chance to win!!!

Your next stop on the hop is the incredibly talented and wonderful Sandy Allnock. Thanks so very much for stopping by!